Quick Access Times
Lightning-fast to set due dates
Scrolling through the time picker to set due dates is just plain slow.
With 12 fully customizable buttons, you can instantly set your reminder to the next 12 noon or the next 10 PM with just a single tap.
You can even add or subtract time from the current date—extra nifty in snoozing reminders or fine-tuning due dates. ∞
Auto Snooze
So persistent you can't forget
With so many notifications coming in from everywhere, it's easy to miss the important ones.
That's why Due repeatedly notifies you of overdue reminders until you mark them complete, reschedule them, or turn off their auto snooze.
With Auto Snooze, your todo list never gets stale. ∞
Notification Snooze
Manage reminders without missing a beat
It's super-easy to mark reminders complete, or defer them to a later date if you can't act on them now.
You don't even have to go into the app. Just postpone the reminder right from its notification. ∞
Countdown Timers
Perfect for repetitive errands
Precise to the second, countdown timers are perfect for making the perfect soft-boiled eggs, brewing your coffee and more.
You can also run multiple countdown timers at once.
Once you create a timer, you can reuse it forever without setting it up again. ∞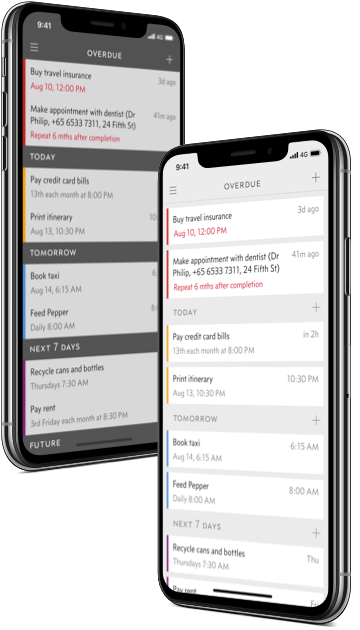 Themes
Whatever takes your fancy
Give Due a new look by changing its theme.
Whether you like it dark, bright or somewhere in between, we've got a theme for you. ∞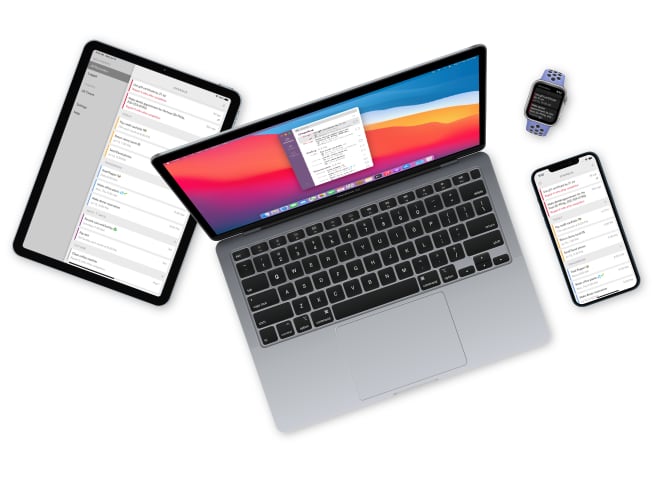 Syncs across devices
Your reminders, everywhere
Due can sync your reminders and timers through iCloud or Dropbox. Create a reminder on your iPhone and it's there on your iPad and Mac.1
With sync, you'll always have access to your most updated reminders, whether you're on your iPhone, iPad or Mac.∞
---
1 Due for macOS and Due for iOS are sold separately. Due for iOS includes an app for iPhone, iPad and Apple Watch. The Apple Watch app is a companion app to the iPhone and requires the paired iPhone to work.